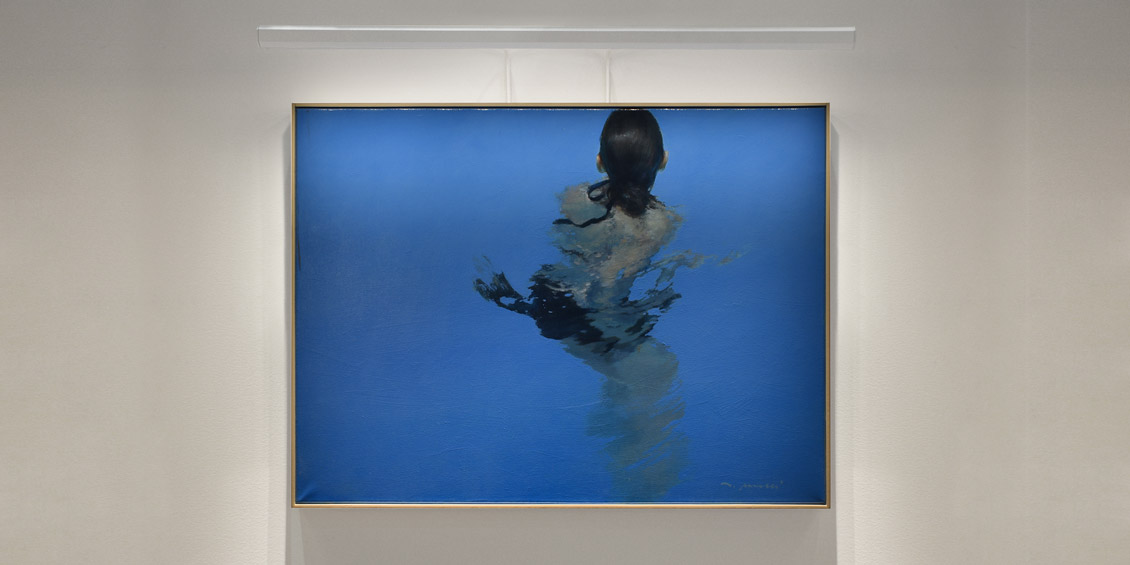 Fine Art Lighting Is An Art In Itself

.
Every piece of fine art is unique and deserves to be brought to life with a premium lighting solution created with the same vision and attention to detail. The Revelite Art Light (AL) appears elegant and simple, disguising a very precise and highly-engineered product. By utilizing the latest LED and optical technology, the Revelite AL provides uniform illumination with incredible color-rendering ability from a compact optical package. Art revealed with science.
EVEN ILLUMINATION
The patented Art Light provides uniform light distribution over the entire width and height of an artwork. Traditional picture lights create a bright spot of light at the top of a piece and minimal light over the rest of a canvas. Revelite's high degree of light control brings focus to the entire canvas and minimizes spill light around the artwork. To achieve this uniformity, each Art Light is custom built and factory calibrated for an artwork's specific dimensions, resulting in a bespoke art display light product.
MINIMAL SCALE
The Art Light's minimal form virtually disappears against the frame or wall and pairs well with various styles of art including impressionist, modern, contemporary, cartography and photographs behind glass. Select an Art Light with a more traditional round profile or the low profile form factor to suit your artwork and design aesthetic.
ART SAFE
Revelite LED Art Light technology is art safe, providing a safer alternative to legacy sources that emit excessive and damaging UV and heat.
COLOR ACCURACY
The quality of a light source significantly impacts the colors that we see. The Revelite AL artwork lighting incorporates LEDs with a high Coloring Rendering Index (CRI) and R9 Value to accurately reflect the artist's color palette. The 3000K color temperature light source remains constant through the dimming curve and keeps whites natural and crisp, ideal for wall art lighting illuminating both old world masters and contemporary pieces.
LOW MAINTENANCE
Revelite fine art lighting is virtually maintenance free, with a lifetime rating of over 50,000 hours.
MULTIPURPOSE
Although originally designed for illuminating works of art, the Revelite AL is also an ideal light for illuminating feature walls, book shelves, displays, menu boards and anywhere a precise, vertical wash of light is required.
---
ENDORSEMENTS
"These lights revealed subtleties in paintings you just don't see with ordinary lights. I think we are seeing, truly for the first time, what the artist really wanted us to see."
Pat Trenton, Ph.D. Art Expert, Curator and Writer
"In over 40 years of being in the art business I have never seen a better quality light to illuminate artwork than the new Revelite. In my opinion Revelite will revolutionize the art lighting industry."
George Stern George Stern Fine Arts
GALLERY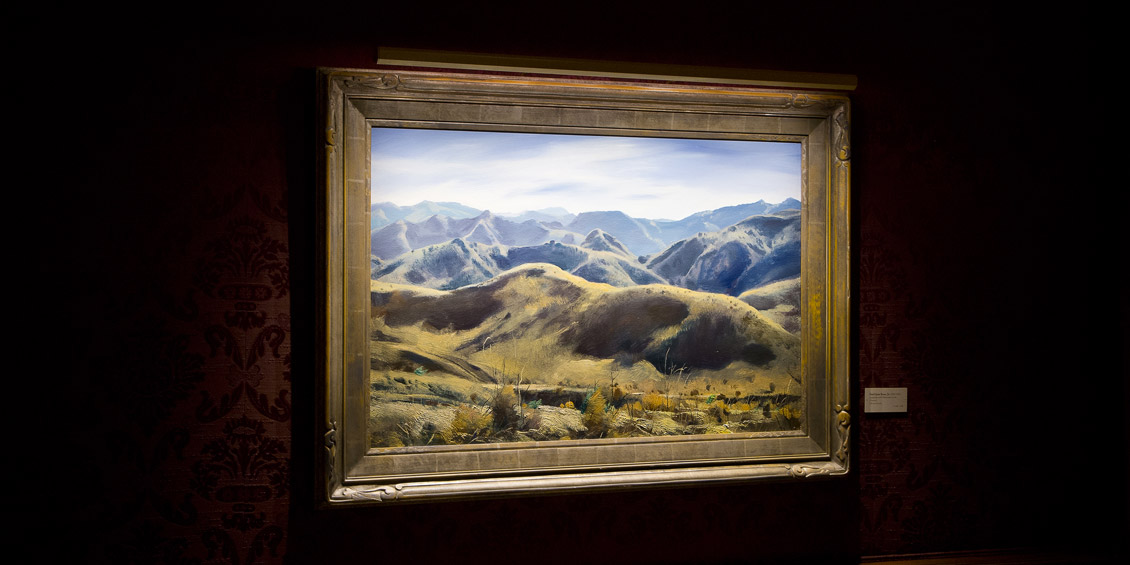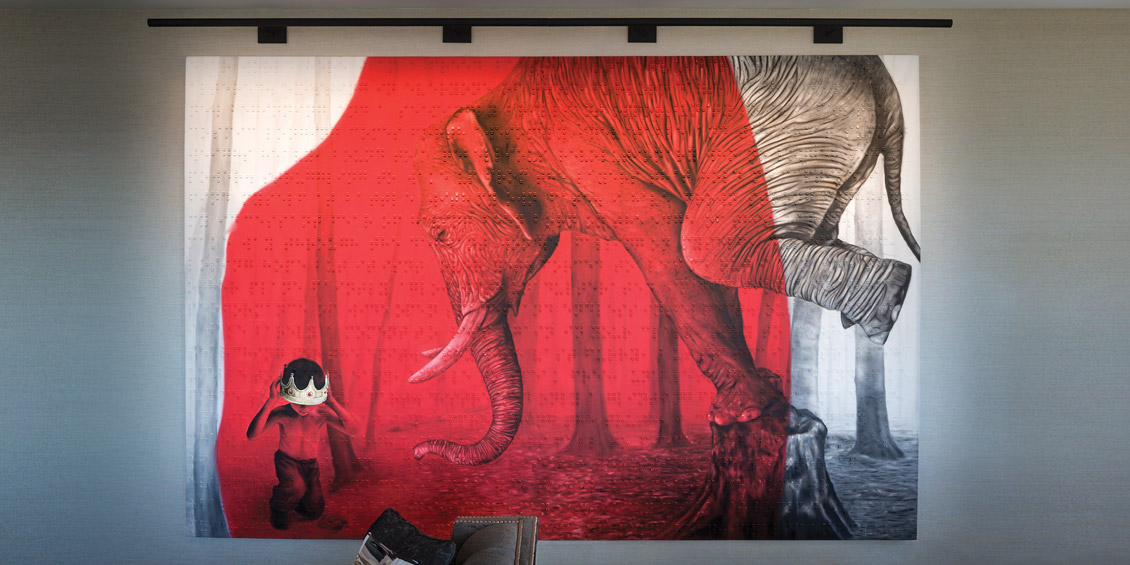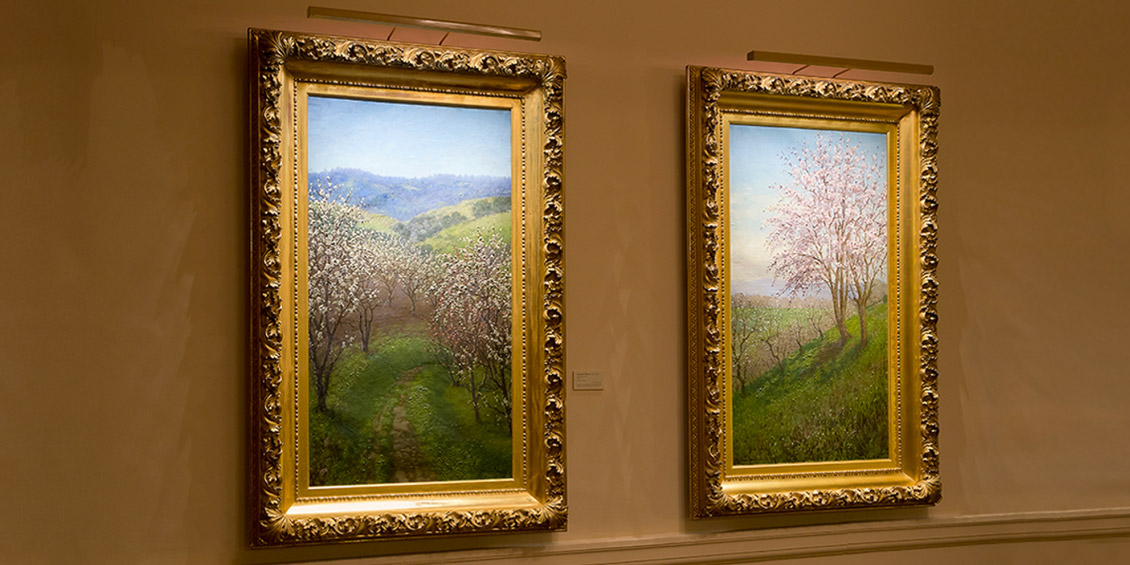 TECH SPECS
MODELS & SIZES
In order to achieve uniform illumination, each Revelite AL is built specifically for the height and width of the art it will illuminate.
ART HEIGHT
In order to achieve uniform illumination, each Revelite AL is built specifically for the height and width of the art it will illuminate.
AL1

Features a single, aimable LED module within the housing designed for artwork of 16" or less in height.

AL2

Features dual, independently aimable LED modules within the housing designed for artwork over 16". The AL2 is optimized for even uniformity up to 36" in height. For artwork greater than 36" in height, the light will gradualy taper off, but provide vertical performance up to 60". For very large pieces, it maybe advised to light from both the top and bottom of the artwork.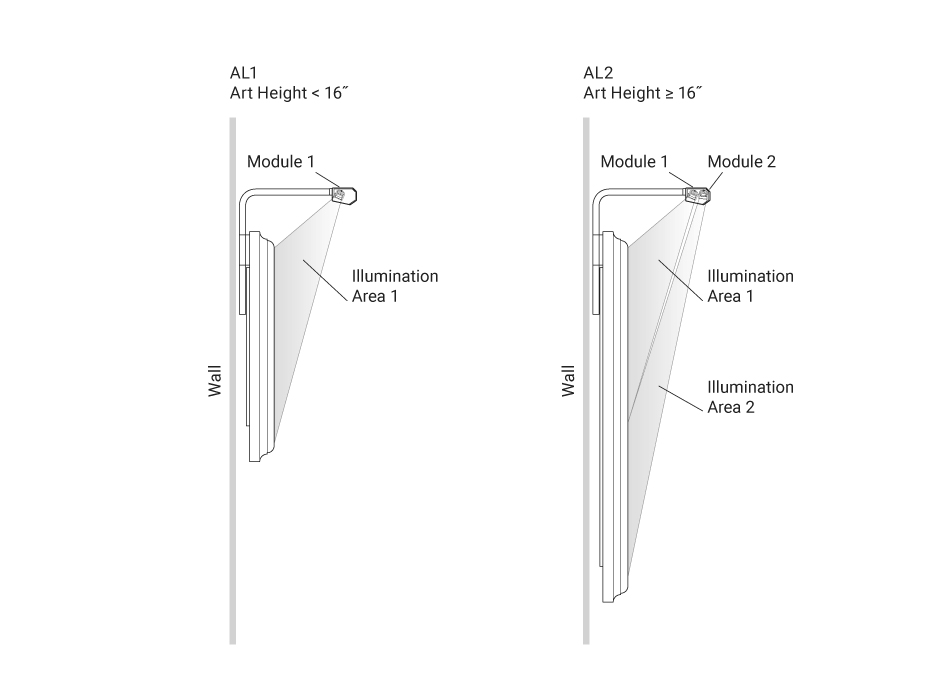 ART WIDTH
Revelite luminaires are available in widths from 7" to 60" (nominal), in predetermined increments. To select the appropriate sized Art Light, measure the width of the art, not including the frame. When matching the art width to the available Revelite width, round down to the next available size. The distribution of light will provide complete coverage of the artwork.
Examples

Art width: 31" Recommended Revelite: 29" (even though a 31" is available)

Art width: 49" Recommended Revelite: 48"
If your art is wider than 60 inches, multiple fixtures can be installed side by side and connected with a Connector Bracket Kit. Select lights of equal widths (that add to the nearest artwork width) to provide even spacing between mounting positions. Include the appropriate number of Connector Bracket Kits from the accessories page.
When ordering online, simply enter your artwork dimensions and the Revelite configurator will determine the appropriate size of Art Lights.
Disclaimer: Revelite fixtures specified for artwork with a width greater than 60" will ship as two separate fixtures joined with a connector bracket.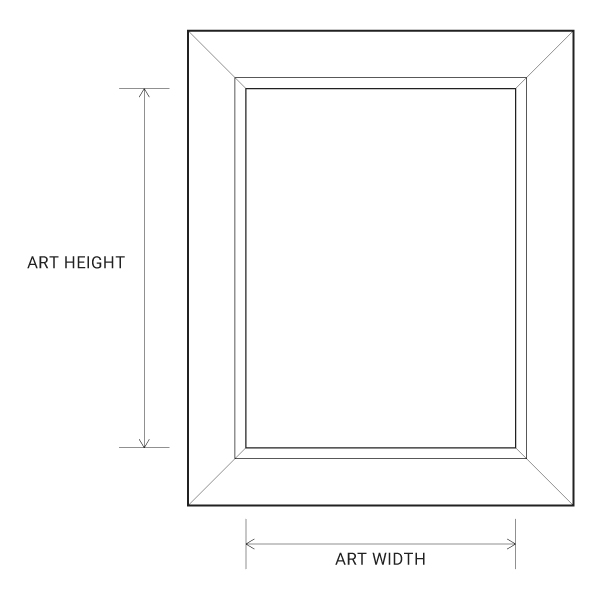 REVELITE AL AVAILABLE WIDTHS (INCHES)
7
10
12
14
17
19
22
24
26
29
31
34
36
38
41
43
46
48
50
53
55
58
60
---
FINISHES
The minimal form of the Art Light virtualy disappears when the finish is matched either to the frame or the wall color. Standard finishes include Brushed Aluminum and powder-coat painted Gold, Oil-Rubbed Bronze, Black and White. Premium finishes include Brushed Brass and Satin Nickel. Please inquire about custom finish options.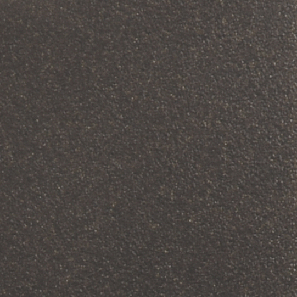 Oil Rubbed Bronze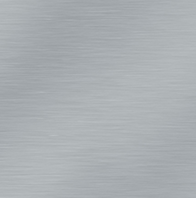 Brushed Aluminum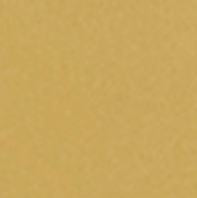 Gold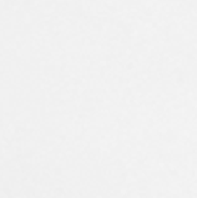 White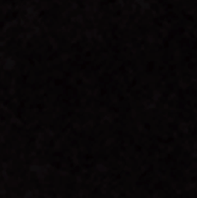 Black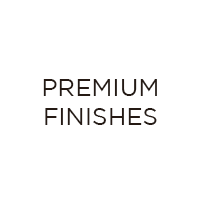 Brushed Brass

Satin Nickel
---
SHAPES
Two housing styles are available: a traditional round profile and a minimalist, low profile. Select the profile to suit your artwork and design aesthetic.
LOW PROFILE
The low profile provides the most discrete view of the art light.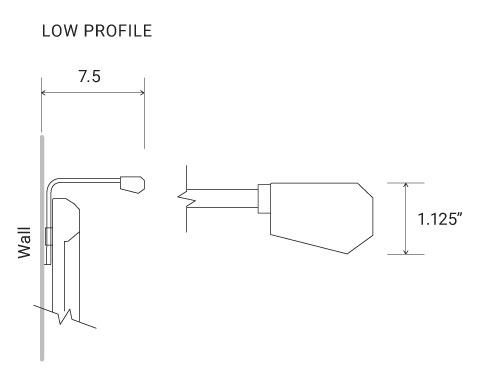 ROUND
The round profile provides the look of a more traditional art light.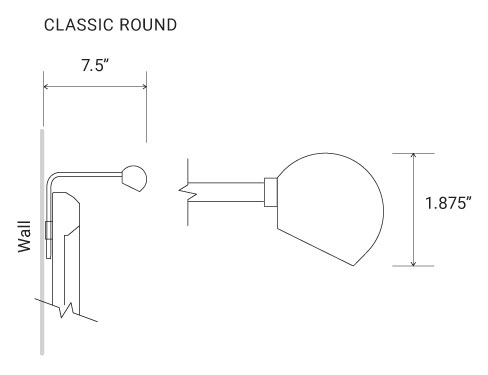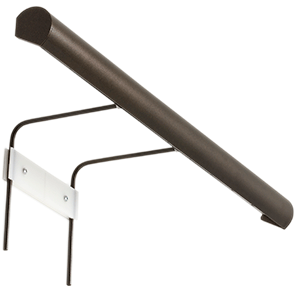 ---
LIGHT CHARACTERISTICS
CORRELATED COLOR TEMPERATURE (CCT)
Revelite AL is available in a 3000K Color Correlated Temperature (CCT). This ideal CCT was selected based on testing different LED CCTs with multiple artwork styles and color schemes. Legacy picture lighting, which often uses 2700K or 3000K halogen lamps, casts an amber hue that shifts to orange as it's dimmed. The Revelite LED source maintains its color tempurature at any light level through the dimming curve.
COLOR RENDERING INDEX (CRI)
Hue, value and intensity are all viewed as the artist intended with a 90+ Coloring Rendering Index (CRI) light source. The Spectral Power Distribution of the Revelite LEDs demonstrates a consistency and full range across the visible spectrum. With an R9 value of 83, reds read strong and vibrant.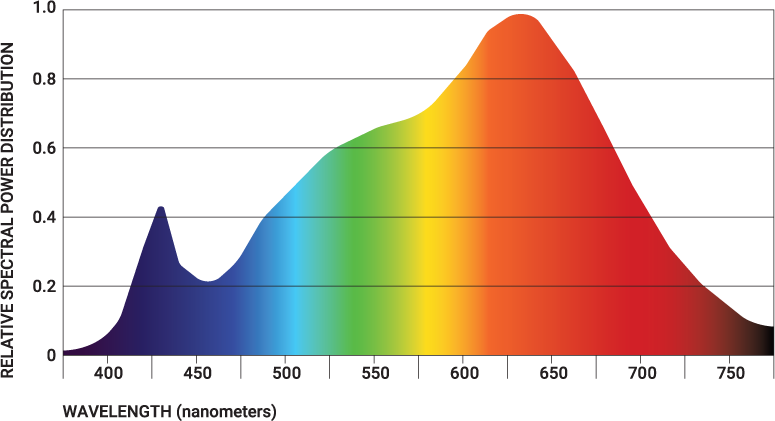 DELIVERED LUMENS
The actual delivered lumens will vary based on the final calibration of the Art Light to the artwork.
AL1

470 lumens per foot MAX at full brightness

AL2

940 lumens per foot MAX at full brightness
LIGHT DISTRIBUTION
The intensity of light and distribution will also vary based on the adjusted settings of the Art Light to the canvas. The sample photometric distribution shown is based on an AL2 Revelite calibrated for a 24" tall canvas. The candela curve indicates a 20°x 40° beam angle (nominal) with a maximum intensity of 325 candela at 10° vertical.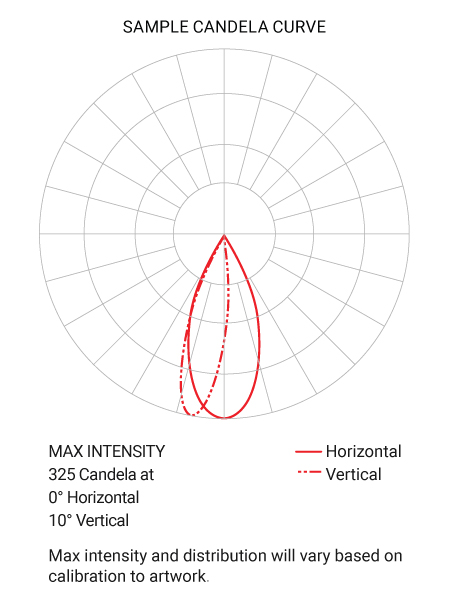 ---
---
POWER & WIRING
The Art Light is a low voltage (24V) luminaire that requires a low voltage DC power supply, furnished by Revelite
POWER CONSUMPTION
AL1

5 watts per foot MAX at full brightness

AL2

10 watts per foot MAX at full brightness
PLUG-IN POWER SUPPLY
The plug-in power supply is similar to a power adapter for a laptop. It plugs into an AC wall outlet and provides a total cord length of 9'. Each light also comes with 6' of white Microwire to extend the distance from the light to the wall outlet. Flat Taperwire which can be spackled and painted to match your wall color is also available as an accessory to create a clean look without hardwiring. Note that a plug-in power supply is only available with Standard Mounting and is included in the price.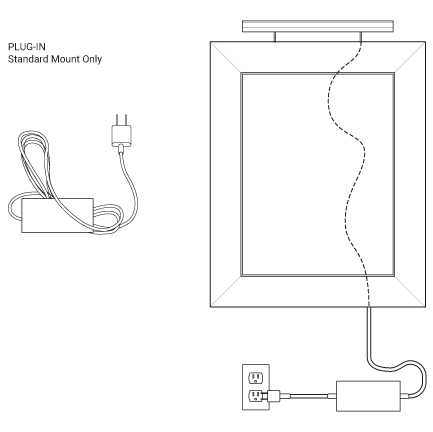 HARDWIRED POWER SUPPLY
Hardwire installations require an electrician, but create clean installations with no visible wires around the artwork. To hardwire a Revelite AL, a power supply is installed inside a junction box recessed into the wall behind the art for Standard Mount or above the art for Direct Wire Mount. A single power supply (appropriately sized) may also be located remotely to power multiple Art Lights. Consult with the factory to determine the appropriate power supply to power multiple units. Hardwire power supplies are available at an additional cost.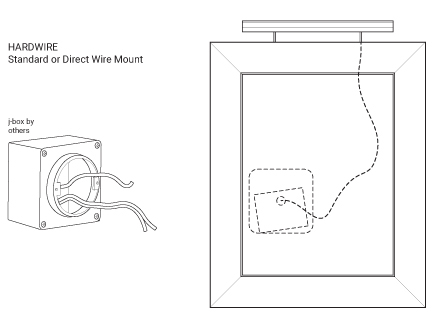 DIMMING
The Revelite Art Light is 0-10V dimmable down to 10%. Each Art Light is supplied with a control switch for ON/OFF and dimming adjustment that may be discreetly located behind artwork on the edge of the frame or the wall. Alternatively, the Art Light is compatible with most third party 0-10V dimming systems. The Revelite AL cannot be dimmed using phase dimming (TRIAC or ELV).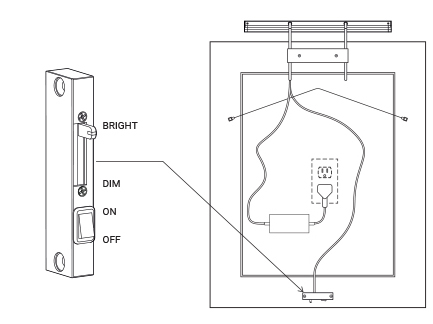 ---